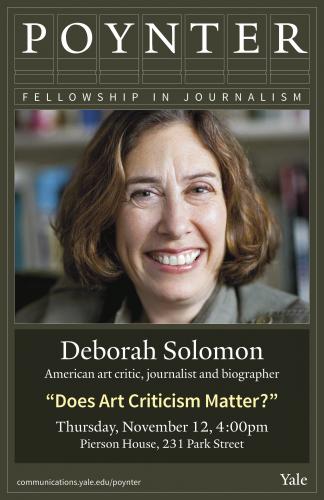 We invite you to be part of a conversation with Deborah Solomon, Public Radio WNYC's  art critic, at a Pierson College Tea this THURSDAY the 12 November at 4 p.m. Deborah's topic: "Does Art Criticism Matter?"
     Back in the '90s, Deborah was the Wall Street Journal's art critic, then became the New York Times Magazine often-controversial Q&A master with her "Questions for …" column, in which the subjects of her cross-examinations included painters, politicians, movie stars, warmongers, poets and public intellectuals.
     Along with her art-critic gig at WNYC, Deborah has also written biographies of artists, including Jackson Pollock, Norman Rockwell and Joseph Cornell.    
Come join us at Pierson House, the handsome brick home at 231 Park Street. Once inside, visit the buffet for a mug of tea and some delicious edibles, and let's start the conversation with Deborah!