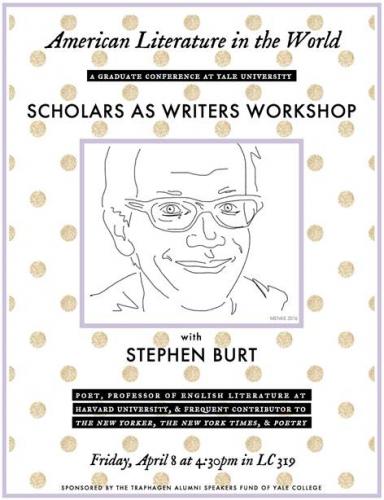 Friday, April 8 at 4:30pm in LC 319
As part of the American Literature in the World Graduate Conference's schedule of events, Stephen Burt, hailed by the New York Times as "one of the most influential poetry critics of his generation," will be leading a Scholars as Writers Workshop on Friday, April 8 at 4:30pm in LC 319. A reception will follow.
Stephen Burt is a poet, literary critic, and professor of English at Harvard University with eight published books, including two critical books on poetry and three poetry collections. His essay collection Close Calls with Nonsense (Graywolf, 2009) was a finalist for the National Book Critics Circle Award. His next essay collection is The Poem is You: 50 or So Contemporary Poems and How to Read Them (Harvard, 2016). His other works include Advice from the Lights: Poems (Graywolf, 2017); Belmont (Graywolf, 2013); The Art of the Sonnet (Harvard, 2010); Something Understood: Essays and Poetry for Helen Vendler (University of Virginia, 2009); The Forms of Youth: Adolescence and 20th Century Poetry (Columbia, 2007); Parallel Play: Poems (Graywolf, 2006); Randall Jarrell on W. H. Auden (Columbia, 2005); Randall Jarrell and His Age (Columbia, 2002); and Popular Music (Center for Literary Publishing, 1999).