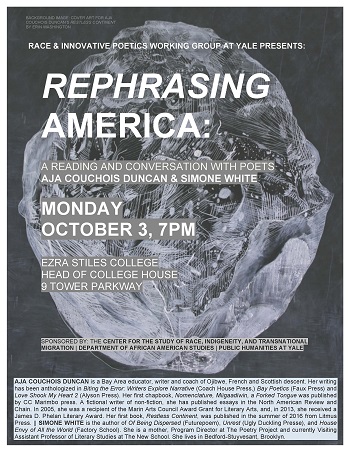 REPHRASING AMERICA: A Reading and Conversation with Poets Aja Couchois Duncan and Simone White
Monday, October 3, 7pm, Ezra Stiles College, Head of College House (9 Tower Parkway)
Poets Aja Couchois Duncan and Simone White will read from their latest collections, respectively Restless Continent (Litmus Press, 2016) and Unrest (Futurepoem, 2016). Following the reading, join us in a conversation with the poets on how their writings interrogate space, identity, and canonical/monolithic conceptions of the U.S. American experience. Light refreshments will be served.  
The event will be introduced and moderated by Camille Owens and Maryam Ivette Parhizkar (GSAS, African American Studies & American Studies; co-conveners of Race & Innovative Poetics Working Group).
Presented by the Race & Innovative Poetics Working Group, this event is co-sponsored by the Center for the Study of Race, Indigeneity and Transnational Migration, the Department of African American Studies, and Public Humanities at Yale.
****
AJA COUCHOIS DUNCAN is a Bay Area educator, writer and coach of Ojibwe, French and Scottish descent. Her writing has been anthologized in Biting the Error: Writers Explore Narrative (Coach House Press,) Bay Poetics (Faux Press) and Love Shook My Heart 2 (Alyson Press). Her first chapbook, Nomenclature, Miigaadiwin, a Forked Tongue was published by CC Marimbo press. A fictional writer of non-fiction, she has published essays in the North American Review and Chain. In 2005, she was a recipient of the Marin Arts Council Award Grant for Literary Arts, and, in 2013, she received a James D. Phelan Literary Award. Her first book, Restless Continent, was published in the summer of 2016 from Litmus Press.
SIMONE WHITE is the author of Of Being Dispersed (Futurepoem), Unrest (Ugly Duckling Presse), and House Envy of All the World (Factory School). She is a mother, Program Director at The Poetry Project and currently Visiting Assistant Professor of Literary Studies at The New School. She lives in Bedford-Stuyvesant, Brooklyn. 
Formed in January 2016 by graduate students, the aim of the Race & Innovative Poetics Working Group is to foster a space for critical reading and discussion of the writings/language-based works of writers and other artists of color, with attention to the resonances between racialization, innovative language, and the relationship between identity and institutional politics in writing practices, publishing and cultural circulation.