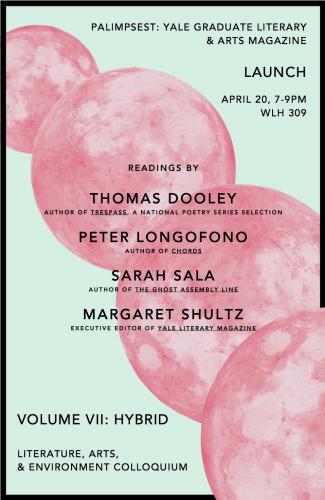 The Literature, Arts, & Environment Colloquium warmly invites you to the launch for the forthcoming issue of Palimpsest: Yale Graduate Literary and Arts Magazine, which explores the concept of hybridity through poetry, fiction, visual art, architecture, and nonfiction ranging from memoir to the medical humanities. The festivities will take place on Wednesday, April 20 from 7:00 to 9:00pm in WLH 309.
Free copies of the magazine will be available, and refreshments will be served. In addition to interdisciplinary performances, projections by Yale MFA artists, and other such interventions, there will also be flash poetry readings by issue contributors Thomas Dooley, Peter Longofono, Sarah Sala, and Margaret Shultz.
Thomas Dooley is the author of Trespass, a winner of the National Poetry Series. He is the Founding Artistic Director of Emotive Fruition, an organization dedicated to changing the way people experience live poetry. A resident of Brooklyn, Thomas teaches creative writing at NYU.
Peter Longofono received his MFA from NYU, where he edited international content for Washington Square Review and served as a Goldwater Fellow. His poems and criticism have appeared or are forthcoming in H_NGM_N, The Bakery, Luna Luna Magazine, tenderloin, and Coldfront. He lives in Brooklyn.
Sarah Sala is a native Michigander with an MFA in Poetry from New York University. Her chapbook The Ghost Assembly Line is forthcoming from Finishing Line Press in 2016. You can visit her at SarahSala.com.
Margaret Shultz is a reader and writer from Iowa City, Iowa. She loves plants and people equally. You can follow her on Twitter @shargaretmultz.