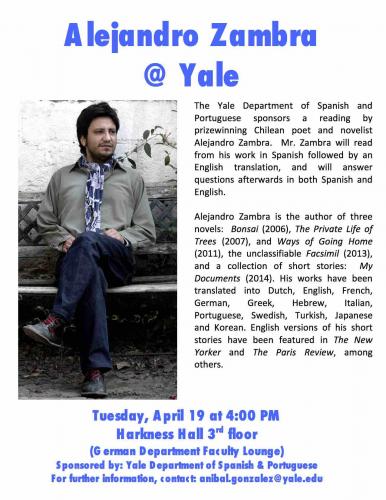 Tuesday, April 19, 4:
00pm
, in the German Department Lounge
Mr. Zambra will read from his work in Spanish followed by an English translation, and will answer questions afterwards in both Spanish and English.
Alejandro Zambra is the author of three novels: Bonsai (2006), The Private Life of Trees (2007), and Ways of Going Home (2011), the unclassifiable Facsimil (2013), and a collection of short stories: My Documents (2014). His works have been translated into Dutch, English, French, German, Greek, Hebrew, Italian, Portuguese, Swedish, Turkish, Japanese and Korean. English versions of his short stories have been featured in The New Yorker and The Paris Review, among others.
Sponsored by the Yale Department of Spanish and Portuguese.