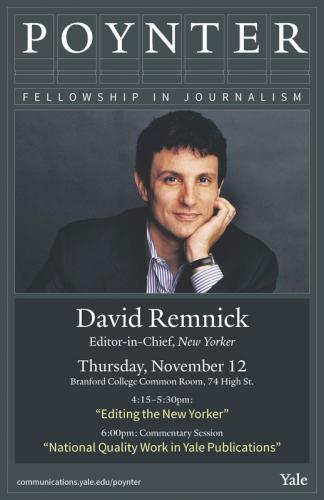 Thursday, November 12, 2015 - 4:15pm
Branford College Common Room
74 High St. 
New Haven, CT 06511
David Remnick will do a master's tea, followed (at 6 pm) by a public critique and discussion of work from Yale's undergraduate periodicals.
David Remnick has been editor of The New Yorker since 1998 and a staff writer since 1992. He has written many pieces for the magazine, including reporting from Russia, the Middle East, and Europe, and Profiles of Barack Obama, Bill Clinton, Katharine Graham, Mike Tyson, Ralph Ellison, Philip Roth, and Benjamin Netanyahu. 
Remnick began his reporting career as a staff writer at the Washington Post in 1982, where he covered stories for the Metro, Sports, and Style sections. 
Since Remnick became editor, The New Yorker has garnered a hundred and forty-nine nominations for National Magazine Awards and has won thirty-seven. 
Remnick has written six books: "Lenin's Tomb," "Resurrection: The Struggle for a New Russia," "King of the World" (a biography of Muhammad Ali), "The Bridge" (a biography of Barack Obama), and "The Devil Problem" and "Reporting," which are collections of some of his pieces from the magazine. Remnick has edited many anthologies of New Yorker pieces, including "Life Stories," "Wonderful Town," "The New Gilded Age," "Fierce Pajamas," "Secret Ingredients," and "Disquiet, Please!" 
Remnick has contributed to The New York Review of Books, Vanity Fair, Esquire, and The New Republic. He has been a Visiting Fellow at the Council on Foreign Relations and has taught at Princeton, where he received his B.A., in 1981, and at Columbia.