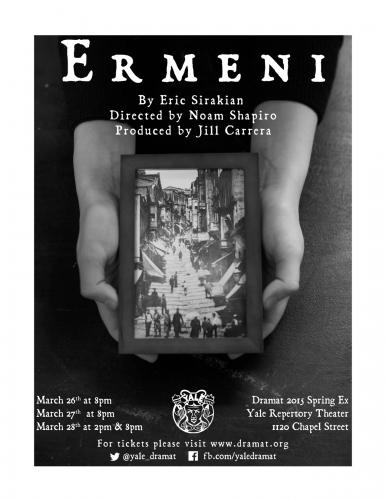 Ermeni, an original production by Eric Sirakian, Writing Concentrator, will have its world premiere as the Dramat Spring Ex production in the Yale Repertory Theater on March 26-28.
The play opens in Cambridge, Massachusetts, in the fall of 1970.  When Armenian American college student Ani brings home her Turkish boyfriend Taner, an argument about history turns into a family crisis as Ani's grandmother suffers a heart attack and must be hospitalized. Taner visits the old woman in the hospital to make peace with the family and to win back the girl he loves. His unexpected friendship with a genocide survivor transports him into the past, into the lost world of Diyarbakir, in a journey towards truth, reconciliation, and the revelation of a family secret that has been buried for years upon years.
There are four performances, on March 26-28 at 8 pm and on March 28 at 2 pm at the Yale Repertory Theater. There will also be a panel discussion about the centenary of the Armenian genocide, co-sponsored by the Yale Dramat and the Genocide Studies Program, featuring Prof. Jay Winter from Yale, Prof. Fatma Gocek from the University of Michigan, and Meline Toumani, author of There Was and There Was Not, in the Yale Rep lounge on March 28 at 5 pm (the panel is free of charge, and no tickets are required).
For more information and tickets, please visit the Dramat website: