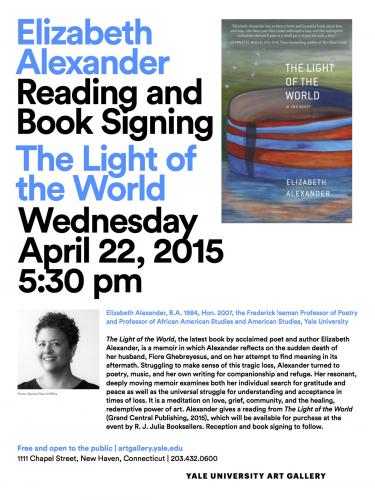 Elizabeth Alexander Reading and Book Signing: The Light of the World. Wednesday, April 22, 2015, 5:30 pm, 1111 Chapel Street, New Haven, Connecticut | 203.432.0600.
Elizabeth Alexander, B.A. 1984, Hon. 2007, the Frederick Iseman Professor of Poetry and Professor of African American Studies and American Studies, Yale University.
The Light of the World
, the latest book by acclaimed poet and author Elizabeth Alexander, is a memoir in which Alexander reflects on the sudden death of 
her husband,
Ficre
Ghebreyesus
, and on her attempt to find meaning in its aftermath. Struggling to make sense of this tragic loss, Alexander turned to poetry, music, and her own writing for companionship and refuge. Her resonant, deeply moving memoir examines both her individual search for gratitude and peace as well as the universal struggle for understanding and acceptance in times of loss. It is a meditation on love, grief, community, and the healing, redemptive power of art. Alexander gives a reading from The Light of the World (Grand Central Publishing, 2015), which will be available for purchase at the event by R. J. Julia Booksellers. Reception and book signing to follow.