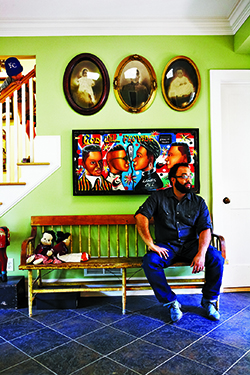 A Discussion of Contemporary African American Poetry and Culture
Wednesday, February 25, 1:00–2:15 pm
Robert L. McNeil, Jr., Lecture Hall,
Yale University Art Gallery
Kevin Young, the Atticus Haygood Professor of Creative Writing and English, and Curator of Literary Collections and the Raymond Danowski Poetry Library, Emory University
Elizabeth Alexander, B.A. 1984, Hon. 2007, the Frederick Iseman Professor of Poetry, and Professor of African American Studies and American Studies, Yale University
Kevin Young is a National Book Award–winning poet and author. He is the author of The Grey Album: On the Blackness of Blackness (2012), a National Book Critics Circle Award finalist for criticism. His most recent collection of poems, Book of Hours(2014) has been named one of the ten essential poetry titles for 2014 by Library Journal. This program features a conversation between Young and Elizabeth Alexander, a noted poet, essayist, and scholar of African American poetry and drama. Alexander has published several collections of criticism and written extensively on contemporary African American artistic life. Together, Young and Alexander discuss themes of race, artistic process, and culture in conjunction with Young's most recent works.
This program is part of a series of public conversations hosted in conjunction with Alexander's course Contemporary African American Literary, Visual, and Performing Arts, which explores the work and innovations of contemporary African American authors and artists.