Aaron Tracy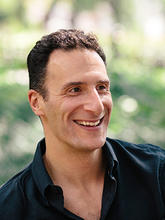 Among other TV projects, Aaron is currently writing and Executive Producing a four-part limited series for Lifetime Network set in 1960s Hollywood; as well as a limited series for Sonar Entertainment about the John Edwards scandal.        
Aaron has previously written on popular series such as Law & Order: SVU.  He's the Creator and Executive Producer of Sequestered, a serialized thriller that ran two seasons on Sony's Crackle Network.  In 2018, USA Network produced Aaron's pilot, The Tap, co-written with Andrew Lenchewski, starring Oscar-winner Tom McCarthy, and Executive Produced by one of Aaron's heroes, Rob Reiner. 
Aaron has also sold original TV pilots to CBS, MGM, Freeform, Alcon, UCP, Lionsgate TV, and others.  In audio, Aaron is creating, writing, and producing several original scripted dramas for Audible, including an underdog NBA story with Steve Nash; a police thriller with James Patterson; and a revenge tale set around daytime TV with Kelly Ripa.  Aaron hosts To Live & Dialogue in LA on the Yale Podcast Network, featuring conversations with fellow screenwriters.  He's represented by CAA and Management 360.